Egészséges és fogyókúrás? – Így támadnak be sunyin a kalóriák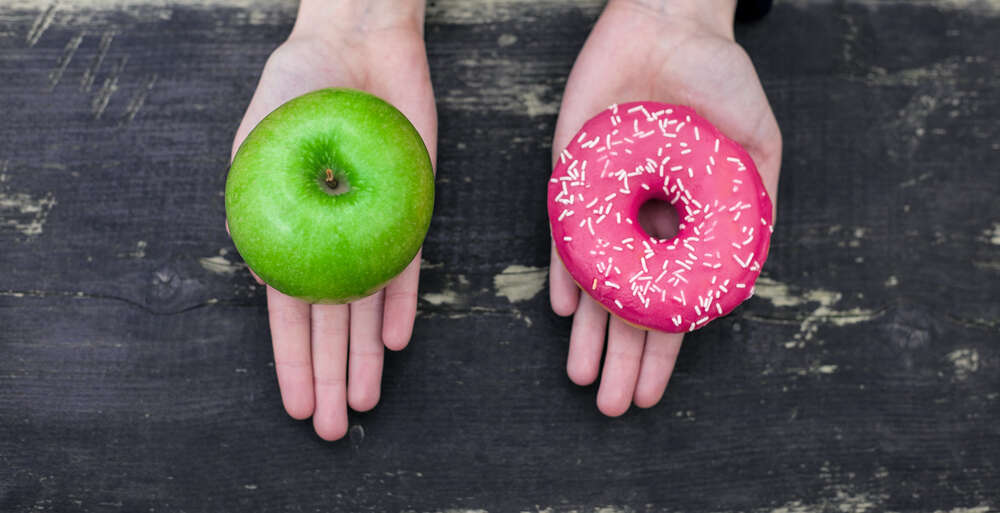 Az emberek folyton csak nyígnak, hogy hiába a clean eating, a szuperegészséges élelmiszerek, a junk food teljes megtagadása, a kilók mégsem olvadnak le róluk, pedig milyen menő lenne, ha csupa modell alkatú nő és pasi állna reggel félálomban a villamoson. Egy 139 ezer követővel rendelkező Insta-sztár most rávilágít, miért is van ez. Zimre Zsuzsa írása. 
–
Vannak a kalóriaszámlálók, a zsírmentesek, a szénhidrátmentesek, a mindenmentesek – és ettől szép a világ, bár lassan már szégyellem magam, amiért gond nélkül benyomok egy jó sajtos-tejfölös lángost, és nem zokogok három napig a sarokban, amiért megittam egy almalevet zubrowkával. Persze azért engem is elfog néha a vágy, hogy 42 kilós és 180 centis legyek, de mivel erre semmi esélyem, ezért gyorsan el is hessegetem a gondolatot. Sokan vannak viszont, akik nem, és közülük majdnem 140 ezer ember követi Lucy Mountaint, aki leginkább a testéről, ételekről és termékekről posztol, némi imázsképpel megtámogatva. Amiért vonzó lehet, az az, hogy nincs olyan alakja, ami elérhetetlen lenne, másrészt jó meglátásai vannak. Például arról, hogyan változtatja meg a kalóriák számát némi olaj vagy salátaöntet. Ő is arrafelé tereli az embereket, hogy ne csak a kalóriákat számolják, hanem gondolkodjanak, és ne feltétlenül azért vegyenek meg valamit, mert az egészségesnek van beállítva, míg a másik nem. Érdemes a kalóriaszámításon túl figyelembe venni a beltartalmi értékeket is, mert ugyan egy adag gumicukor és egy adag mandula hasonló kalóriaértékkel bír, mégis, ha megkérdezel egy dietetikust, nagy valószínűséggel nem a gumicukrot fogja ajánlani. 
Itt van mindjárt ez a kép, amin héjában sült burgonya, majonézes tonhal és saláta látható, a jobb oldali mégis 246 kalóriával több mint a baloldali. A blogger szerint a különbség a láthatatlan kalóriákban van, és mindössze annyi, hogy a majonéz és a salátaöntet light, olaj helyett pedig olajsprayt használt. Látszik a különbség? Nem. Számokban viszont igen. 
241 Likes, 14 Comments - theFFFeed (@thefffeed) on Instagram: "Spot the difference 🍽Both of these meals have the same amount of potato, tuna mayo and salad - but..."
A chips hizlal, ez nem kérdés, és ha választani kell, akkor a nagy többség a zöldségchipsre szavaz. Hopp, pedig abban több a kalória. Persze a gyökérzöldségekből és a burgonyából készült chips eltér egymástól a beltartalmi értékeit tekintve, a kép jól mutatja, hogy ami egészségesnek van beállítva, az nem biztos, hogy kevés kalóriát is tartalmaz. 
127 Likes, 24 Comments - theFFFeed (@thefffeed) on Instagram: "Salt and Vinegar Crisps vs Vegetable Crisps 🥔⠀ ⠀ Each of these bowls contain 1 bag (40g) of crisps...."
Itt van példának okáért az egészségesebbnek beállított keserű csokoládé – ha már édességet eszel, inkább azt edd, mint a tejes verziót . A keserű csoki a legtöbb esetben kevesebb cukrot, több rostot és vasat tartalmaz, mint a tejcsoki, ám – valljuk be – senki nem a beltartalmi értékei miatt eszi a csokoládét,  hanem egyszerűen boldoggá akarja tenni magát. 
126 Likes, 17 Comments - theFFFeed (@thefffeed) on Instagram: "100g Milk Chocolate vs 100g 85% Dark Chocolate 🍫 ⠀ ⠀ So it's pretty unknown that dark chocolate..."
És akkor el is érkeztünk egy izgalmas kérdéshez, mégpedig a mennyiséghez. Ezen a képen eper látható, méghozzá két különböző formájában. Az első 30 dekagramm, a második 3,5. Mindkettő 100 kalória. Az egyikből sokkal könnyebb túlenni magad, hiszen nem nagy mennyiség. A másikban azért van anyag. 
107 Likes, 5 Comments - theFFFeed (@thefffeed) on Instagram: "100 calories of Strawberries vs 100 calories of Strawberries 🍓⠀ ⠀ The portion on the left weighs..."
A mennyiség mentén továbbhaladva, itt van három, fehérjével felturbózott ital, edzés utánra vagy reggelire. A számok elég ütősek. Az első képen mandulatej és fehérjepor keveréke látható, mindössze 130 kalória. A másodikon egy banán, és némi méz is került a pohárba extrán – így máris 296 kalóriánál tartunk. A harmadiknál – na, ez a sokkoló – 500 kalória a pohár, mert került bele mogyoróvaj és lenmag is. 
93 Likes, 6 Comments - theFFFeed (@thefffeed) on Instagram: "All three of these are smoothies. However depending on the ingredients thrown in, the calorie..."
És máris itt van a legszomorúbb rész: az alkohol. A blogger szerint másfél deci bor több mint dupla annyi kalória, mint egy gin- tonic. Sírok.
157 Likes, 19 Comments - theFFFeed (@thefffeed) on Instagram: "150ml Gin & Slimline Tonic vs. 150ml White Wine 🥂⠀ ⠀ So I'm not really a casual drinker - I'm very..."
Egészséges reggeli? Igen, ezt sok gyártó kommunikálja. Itt van mindjárt a nálunk is kapható Belvita, illetve a Digestive keksz. Na, melyiket választod, ha édesre vágysz, de odafigyelsz önmagadra? Naná, hogy a Belvitát. Pedig – megnézve a két terméket – majdnem azonos a kalóriatartalma és a beltartalmi értekei is kis híján megegyeznek. Ráadásul a Digestive kevesebb cukrot tartalmaz, mint a Belvita – írja a blogger, aki hozzáteszi, hogy a Belvitában van olyan tápanyag, ami a másik termékben nincs, de ez 150 grammnyi spenóttal könnyen pótolható. Végezetül azt javasolja, hogy ha csak ennél valami jót, akkor válaszd nyugodtan a Belvitát, de ha csupán azért ennéd, mert egészségesnek titulálták, akkor érdemesebb a célodnak jobban megfelelő variációt keresni. 
309 Likes, 16 Comments - theFFFeed (@thefffeed) on Instagram: "'Healthy Breakfast' vs 'Naughty Snack' 🌝⠀ ⠀ I've been talking a lot about labels recently, and I..."